Paracetamol Paediatric Oral Suspension IP
Brand Name: Boonmol-250
Manufactured by: Mediboon Pharma
It is used for mild to moderate pain including headache, migraine, nerve pain, toothache, sore throat, period pains, and general aches and pains. It is also used to help reduce a fever (high temperature).
Description
Paracetamol Paediatric Oral Suspension IP Uses
Paracetamol paediatric oral suspension ip 120 mg is a commonly recommended medication that relieves pain and lowers high body temperatures (fever). It is used to treat headaches, toothaches, body aches, fevers, and common colds in youngsters. Paracetamol Oral Suspension is administered orally, preferably at the same time every day. Though this medication can be taken before or after food, it is better taken after food because it can irritate the inner lining of the stomach when taken on an empty stomach. The dose and length will be determined by your child's age, body weight, and the severity of the infection; thus, follow the dose, time, and method given by your child's doctor.

If you have any of the following conditions, do not use this medication:
experienced a response to

Paracetamol Paediatric Oral Suspension IP 250mg

or any of the substances mentioned in section 6.
A rash, itching, or shortness of breath are all symptoms of an allergic response.
a liver condition
If any of these apply to you, see your doctor or pharmacist.
Precautions and warnings for Paracetamol Paediatric Oral Suspension IP
Before using paracetamol, see your doctor or pharmacist if you have:
kidney issues
Problems with the liver, especially those caused by excessive alcohol consumption.
You may be more susceptible to paracetamol side effects.
If any of these apply to you, see your doctor or pharmacist.
Paracetamol Paediatric Oral Suspension IP in Breast-feeding and Pregnancy 
Before using this medication, see your doctor or pharmacist if you are pregnant, intend to become pregnant, or are breast-feeding. Paracetamol Pediatrics Oral Suspension IP 100mg can be taken throughout pregnancy if necessary. You should take the smallest dose that relieves your pain and/or fever for the shortest amount of time. If the pain and/or fever do not subside or if you need to take the medication more frequently, consult your doctor.
Paracetamol Paediatric Oral Suspension IP in Driving and operating machinery
Pediatrics Paracetamol Oral Suspension IP for babies should not impair your ability to drive. Tartrazine and carmoisine, methyl and propyl parahydroxybenzoate, sugar, propylene glycol, and sorbitol are all included in Paracetamol Suspension.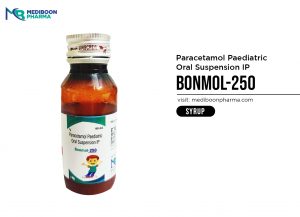 PCD Franchise for Paracetamol Paediatric oral Suspension IP
Mediboon Pharma is the Company offering the PCD Pharma Franchise for Paracetamol Paediatric oral Suspension IP dolo drops in PAN India.
Since we are accredited to WHO-CGMP, we have met strict WHO-CGMP unit processing standards. The standard method is observed and the quality control processes are the most precise. A highly experienced production team focuses on producing quality pharmaceuticals is supporting our production unit. Our production unit. Apart from this, we are mentioning some of the highlights for manufacturing unit for paracetamol paediatric oral suspension ip syrup.
All machinery or equipment is lubricated and performs better.
The unit is located in a duty-free zone that is economical for our services.
Utilized for the production of latest hi-tech equipment.
In order to maintain free of infection the production area, our unit is generally sanitised.
Here are some of the advantages of collaborating with us for Paracetamol Paediatric Oral Suspension IP PCD Pharma Franchise: 
Skilled management: Team works very professional and organised with us here. Talented staff have made the name of the organisation the trustworthy third party fabricator in Baddi. The packaging, production, quality evaluation, billing etc. are discussed in different areas. All of these are run by our qualified personnel in order to improve our services.
Pocket-Friendly Prices:The best aspect of our organisation is that we provide the industry's most precise and reasonable charges. This commercial concerns us about the common man's affordability. We can reach all parts of our nation with this technique. You can build a respectable name in the pharmaceutical sector with our excellent pharmaceutical and economical items.
Quick Delivery: We have a vast customer network, though, and so we can supply the products with the great support of our logistics staff within a certain period of time. This allows us rapidly and securely deliver products while keeping our customers' prices down.
Stock Management: Stock shortage is a serious concern and issue that many pharmaceutical companies face in the pharmaceutical field. However, at Cassopeia, the availability of the products they require does not have to concern our consumers. We learn about your demands and plan stock accordingly when our customers make their initial buy from us.
Quality Pharma Products: As a well-known third-party manufacturer we focus entirely on our quality drug goods, produced under rigorous monitoring of quality. At every stage of manufacture, our quality control personnel inspect the articles. All our products are processed on an efficient production lane to assure product quality. In the pharmaceutical industry we have created a critical standard.
Generate Quotation: We will prepare quotations after talking about the price of each product which cover all information about the price of the product. The quote includes all the financial details regarding the transaction, such as the payment to be made by the customer upon placing the order and after payment.
Packaging And Labelling: Select the material, design, outline and etiquette of the product. Determine the product description or what you would like to write about our products. We ensure that we provide our customers with attractive, leak-proof packaging.
Additional information
| | |
| --- | --- |
| Brand Name | Boonmol – 250 |
| Composition | Paracetamol Paediatric Oral Suspension ip |
| Packaging Size | 60ml |