Ofloxacin Oral Suspnsion IP 50mg/5ml
Brand Name: Ofloboon 50
Manufactured by: Mediboon Pharma
This medication is used to treat a variety of bacterial infections. Ofloxacin belongs to a class of drugs called quinolone antibiotics. It works by stopping the growth of bacteria. This antibiotic treats only bacterial infections.
Description
This antibiotic is used to treat a wide range of bacterial illnesses. Ofloxacin is a member of the quinolone antibiotic family. It acts by preventing bacterial development. This antibiotic exclusively addresses bacterial illnesses. It is ineffective against viral infections (such as the common cold, flu). When an antibiotic is used when it is not required, it may become ineffective against future illnesses.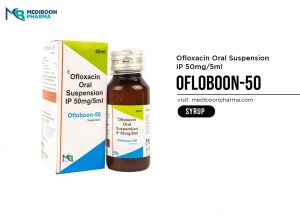 Ofloxacin + Ornidazole is an antibiotic combination consisting of two antibiotics: Ofloxacin and Ornidazole. Ofloxacin kills bacteria by stopping their cells from dividing and mending themselves. By disrupting their DNA, ornidazole destroys parasites and anaerobic bacteria that cause illnesses. They successfully treat your illness when used together.
Important: The Database is still under development and may contain inaccuracies. It is not intended as a substitute for the expertise and judgment of your physician, pharmacist, or other healthcare professional. It should not be construed to indicate that the use of any medication in any country is safe, appropriate, or effective for you. Consult with your healthcare professional before taking any medication.
Additional information
| | |
| --- | --- |
| Brand Name | Ofloboon 50 |
| Composition | Ofloxacin50mg |
| Packaging Size | 60ml |